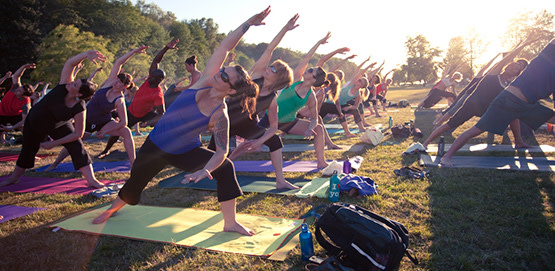 The "freshman 15" used to be a joke we could all laugh at because we understood those extra pounds new college students put on were only temporary. By sophomore year they'd be gone as students learned to live healthfully on their own. Trouble is, we Americans are just getting too fat to laugh it off anymore, and we're getting there at ever-earlier ages. Colleges are, thankfully, doing their part to combat our national obesity problem with sophisticated, fun fitness programs on their campuses. These 15 are the ones that are so impressive, we feel the burn just writing about them.
University of California, Los Angeles:

UCLA knocks fitness out of the park with its FITWELL program, a full-featured campaign involving a handful of campus agencies and groups. Students can track their fitness progress and find helpful health info through iWorkout. With the "mobile unit of fitness instructors" known as the FITSquad, people can have the gym brought to them for 15- or 30-minute guided workouts, or just enjoy a relaxing massage. Faculty and staff aren't forgotten, either; at any time they can sign up for free FIT Zone classes.

University of North Dakota:

The fitness program on the Grand Forks campus manages to wow in several different ways. UND recently opened, $20 million Student Wellness Center is a green machine, with electricity-free eco-treadmills and LEED certification. It provides a state-of-the-art environment for students who come for the free health assessments, to participate in special events like Row-vember or Cycle for a Cause, or do "specialty exercise" like ViPR or "Reformer Pilates."

Stanford folds all its health and wellness activities and info into one initiative known collectively as BeWell, and it is impressive. The program first directs students through its Student Health Appraisal, which is then used by an advisor in a free session to help them craft a personal wellness plan. All that's left then is to go healthy, whether it's through traditional venues like intramurals or the "workout of the week," or more unique methods like art walks or martial arts.

UCSD's FitLife program features a solid suite of classes, and they're continually adding new ones. New choices in Fall 2012 include Beast HIIT ("push your body to its limits!"); "R.I.P.P.E.D." (Resistance, Intervals, Power, Plyometrics, Endurance, and Diet); and TRX suspension training. But why let that beautiful California weather go to waste? Students can get fit through standup paddleboarding, surfing, and rowing through classes at the Mission Bay Aquatic Center.

Exercise is a competitive sport at this Ivy League school. The 8,000-square-foot Stephens Fitness Center is routinely the site of bench press challenges, the five-week, incentivized 1,000-Point Challenge, the Strength/Endurance Challenge, and more. To emphasize wellness as well as fitness, Princeton has also been faithfully producing the bimonthly Fitness & Wellness Bulletin since March 2007, all of which are still available for viewing online.

The range of fitness classes is not huge, but with more than 70 of them held on a weekly basis, there's really no excuse to not make time to get fit as a student at ISU. What's more, students have the option of booking custom classes for anywhere from 30 minutes to two hours for as little as $30. And different workshops pop up each semester, like this fall's water exercise classes and lead climbing classes.

Physical fitness is just one aspect of Pitt's wellness program it calls Healthy U; there are six other aspects like social and emotional wellness that it wisely targets. But when it comes time to get toned, students only need to check the Fit at Pitt calendar to find a time for a free assessment and get a customized "exercise prescription." Cool and unusual fitness activities here include geocaching, indoor triathlons, personal defense, and PiYo.

Spelman is so focused on making fitness a priority for all students on campus that it just recently decided to shutter its athletics department and transfer its $1 million budget to funding a "Wellness Revolution." Coupled with a push for "fitness literacy," the new program will highlight sports that the female students can play to stay healthy the rest of their lives, like yoga, swimming, Zumba, and tennis.

Portland is one of the country's healthiest cities, and if students from this school stay there after graduating, that will continue to be the case. Pioneers can get in shape with some off-the-wall offerings like country western and hula dancing, snowboarding and cross-country skiing, and Kung Fu. For more run-of-the-mill sports, the fine Zehntbauer Swimming Pavilion offers swimming in style and there are opportunities for both outdoor and indoor tennis, thanks to the Tennis Dome.

UNR prides itself on owning the country's first (and largest) university CrossFit program in the country. Students often have as many as six classes a day to try out this uber-popular workout trend. If it's not their thing, they can use their "Lombardi passes" to drop in on yoga, Pilates, kickboxing, kayaking rolling, and other classes.

Baylor is good for more than 40 "Bearobics" classes in Zumba, Turbo Kick, hip hop, and more. Outdoor exercise can also be had (or at least simulated), from the 52-foot rock wall in the McLane Student Life Center to the challenge course and 2.25-mile Bear (running) Trail around campus. After competing in the fitness challenge, students can decompress with some massage therapy at the SLC Fitness Center.

If getting in shape by working out is its own reward, students at USF are getting rewarded twice over. Through the university's Fit-4-You program, students earn miles for each hour spent in the gym, which they can then cash in for prizes ranging in desirability from a towel to a t-shirt to a sweatshirt. The options for earning miles are numerous, from piloxing (a mix of boxing and Pilates) to something called Muscle Confusion.

UT is pretty much the top sports college in the country, so it's fitting that they have a thorough program for keeping non-athletes in shape, too. The Fitness Institute of Texas offers not one or two but six different assessment categories, from aerobics (with lactate threshold test) to muscles to nutrition. It's also the home of GET FIT, a 12-week series of weight loss workouts and nutrition seminars. Meanwhile, at the Gregory and Hiss Gyms, students have over 100 fitness and dance classes at their fingertips every week.

Tar Heels can head to the Student Rec Center for free fitness services like blood pressure screening, body mass indexing, and fitness orientation, all courtesy of the Functional Movement & Fitness Center. Once they've done that they can jump right in to specialty classes like Fall Into Fitness and Bootcamp, or get fit on their own by swimming, rock climbing, or running.

This school in Topeka, Kan., has some fresh ways of encouraging students to get moving. One is the Active Ichabod incentive program (they're the Washburn Ichabods), which recognizes all types of exercise, from cardio to household chores, and awards prizes. WU also offers a system called Bod Buddies, which connects people who enjoy particular sports -- like badminton, rock climbing, or volleyball -- with other like-minded students. And fitness competitions like WU's Most Fit and Bench Press Max Out give students a chance to test their mettle against their fellow exercisers.