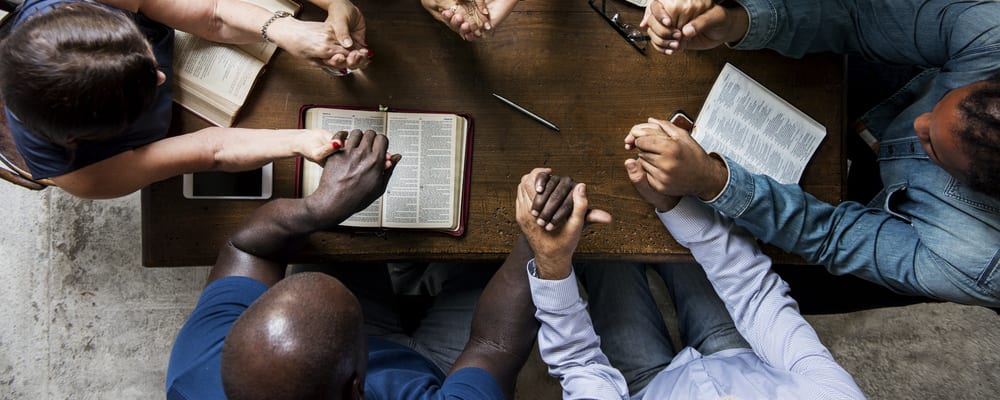 Download Badge
When selecting the best college or university for your education, an online Christian college might be just the ticket. If your faith is central to your busy life, attending a Christian college online with like-minded classmates and teachers could really enhance your degree program. What's important here is that you select an online Christian college that is properly accredited by a regional or national agency. For more information on accreditation, visit the U.S. Department of Education's website.
Keeping this in mind, we've researched the best online Christian colleges and universities that are straightforward about providing an accredited, biblically based, Christ-centered degree program. From there, we relied on the following criteria to generate our rankings: student satisfaction (as measured by graduation and retention rates), peer and instructional quality (as measured by acceptance rates and student-teacher ratios), affordability (as measured by tuition costs and availability of financial aid), and credibility (as measured by years of accreditation, reputation, awards, and job placement record).
What Are The Best Online Christian Colleges & Universities?
Some schools may be sponsored. Please see methodology below for more details.
| | | | |
| --- | --- | --- | --- |
| 1 | | Based in Phoenix, AZ, Grand Canyon University offers over 100 online degrees. Students complete courses one at a time, a unique approach which GCU believes will lead to a greater understanding of course materials. Classes are small and taught by full-time faculty, and offer frequent starts throughout the year. As an interdenominational Christian institution, religion plays an important role in Grand Canyon's mission. The university abides by a strong statement of Christian faith and offers twice-weekly chapel services that students can attend in-person or online. | Visit Site |
| 2 | | Liberty University is the largest Christian university in the world. With a campus tucked away in Virginia's Blue Ridge Mountains, Liberty has also established itself as a heavyweight among other online Christian colleges and universities. Liberty offers more than 250 certificate, associate, bachelor's, master's, and doctoral degree programs in many specializations including business, criminal justice, education, and nursing. Boasting high student retention and graduation rates, Liberty is routinely ranked among the best universities when compared with other Christian online colleges. Since Liberty is not-for-profit, it also offers some of the lowest tuition rates for an online degree program. | Visit Site |
| 3 | | Founded in 1889, Saint Leo University is the oldest Catholic higher education institution in the state of Florida. With 15,000 students enrolled around the globe, St. Leo is a leader among Christian online colleges and universities. As a religious-based institution, all online undergraduates must complete three religion or philosophy courses as a general education requirement, though not necessarily in Christian theology. With over 40 online university and college degree programs, St. Leo brings its experience and heritage as an established university to online education. | Visit Site |
| 4 | | Ohio Christian University provides students with a "holistic, Christ-centered, biblically integrated education in the Wesleyan tradition". Offering online associate and bachelor's degrees in business, leadership, ministry, psychology, and counseling through its AIM Adult Degree Program, Ohio Christian has established itself as a leader in online Christian education. Competitive admission rates and a low student to faculty ratio of 10:1 make Ohio Christian University a top choice for an online Christian degree. | Visit Site |
| 5 | | As the online and adult division of Azusa Pacific University, University College is one of many online Christian colleges that cater to working adults seeking faith-based courses. Taught from a Christian worldview, University College offers over 100 associate, bachelor's, and master's degree programs. Additionally, it is regularly ranked among the nation's best universities by U.S. News & World Report. Many of University College's degree programs can be completed on a full-time or part-time basis. Online students study with the same faculty as traditional students and have full access to campus resources. As an added benefit, a livestream of chapel services allows online students to partake in Christian worship at the university. | Visit Site |
| 6 | | With its online nursing and education degrees ranked 10th and 11th in the nation by U.S. News & World Report, Graceland University has demonstrated excellence in distance learning. The liberal arts university that opened its doors well over 100 years ago in rural Iowa now provides a religiously-influenced education to its roughly 1,500 part-time and full-time students. Most students are practicing Christians from various denominations. Graceland offers nine online master's degree programs designed for busy professionals in healthcare, education, and theology. | Visit Site |
| 7 | | Established in 1985 as a regional university, Indiana Wesleyan University is a Christ-centered, student-focused liberal arts school. IWU strives for Christlikeness, encouraging students to pursue their education as a life calling while preparing for professional success through spiritual growth. IWU online allows working adults the opportunity to advance their careers or broaden their intellectual horizons by offering most degree programs to distance learners. Online students enroll for all required courses at once, meaning they are never waitlisted. All course materials are delivered directly to the student's door as part of the program cost. | Visit Site |
| 8 | | Established in 1902, University of Northwestern-St. Paul provides students with a Christ-centered liberal arts education. The school's code of conduct for faculty, staff, and students is rooted in the Christian doctrine. With a 14:1 student to faculty ratio and a promise made by all affiliated with UNW to hold each other accountable, students have the support system they need to advance in both education and faith. UNW offers nine online undergraduate and graduate degree programs that are taught with the same values as their on-campus counterparts. | Visit Site |
Sponsored
---
To determine the best online Christian colleges, we looked at the most important factors prospective students, mainly common predictors of future success and a school's commitment to online programs. This boils down to admissions rate, student loan default rate, retention rate, graduation rate, and the percent of students enrolled in online classes. All data points are taken from information provided by colleges and universities to the National Center for Education Statistics.
Each factor is weighted evenly in order to give an objective view and determine the best online Christian colleges. To calculate our rankings, we looked at a school's ranking when organized by a single factor, and then averaged each category's ranking to find an overall score: Admissions Rate (20%) + Default Rate (20%) + Retention Rate (20%) + Graduation Rate (20%) + Percent of Students Enrolled in Online Classes (20%) = Final score.