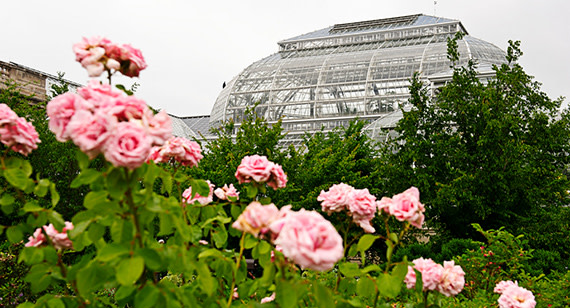 The word "campus" is Latin for "field," but the best college campuses often boast a more lush and varied landscape than the etymology implies. Some of them even cultivate their own arboreta (there's that Latin again!) and botanical gardens, for varied purposes including collection, study, beautification, and ecology. Here are some of the finest green spaces to be found at America's colleges:
Smith's Botanic Garden was designed in 1893 by Frederick Law Olmsted, probably the world's most famous landscape architect to this day, especially due to his masterpiece, Manhattan's Central Park. Today it contains "1200 types of woody trees and shrubs ... 2200 types of hardy herbaceous plants ... 3200 types of tender herbaceous and woody plants in the Lyman Conservatory ... [and] 6600 different kinds of plants, with altogether approximately 10,000 total on campus," plus another 60,000 species in the herbarium.

Wellesley has a whole variety of botanical gardens: the Alexandra Botanic Garden, the Bog Garden, the Climate Change Monitoring Garden, the Creighton Educational Garden, the Edible Ecosystem Teaching Garden, the H. H. Hunnewell Arboretum, the Kitchen Garden, and the Margaret C. Ferguson Greenhouses. Altogether these "include thousands of plants representing over 1,500 different taxa from more than 150 different plant families, a remarkably diverse collection for a college or university."

University of California Botanical Gardens at Berkeley

This 34-acre garden at UC Berkley contains over 13,000 species, and was formally established in 1890, but moved to a new location in the 1920s. It embraces a naturalistic landscape design, and is home to many specimens gathered on pioneering expeditions to the Andes, Africa, Oceania, and other then-mysterious locales. It's a hotspot of research on plant ecological genetics, but is also open to the public year-round.

Another Olmsted project, the Arnold Arboretum opened in 1872 as a partnership between Harvard University and the City of Boston, and is today a National Historical Landmark. It is not located near Harvard's Cambridge campus, but rather is set on a spacious 265 acres in the neighborhood of Jamaica Plain. Setting foot inside this publically-accessible enclosure, you will find yourself surrounded by one of the most comprehensive and diverse collections of trees on the planet. A jewel among parks, it's almost more like a plant zoo.

This charming 100-acre wood (oh, bother!) is open to the public 24/7/365. It contains 17 separate collections, mostly organized by geography. For instance, there are gardens representing Australia, the California foothills, the desert, East Asia, the Mediterranean, northern California, South America, and the American Southwest.

Only technically a newcomer to this illustrious group, the University of Washington Botanic Gardens was established in 2005 as a consolidation of the existing Washington Park Arboretum along with the school's Center for Urban Horticulture. The City of Seattle manages the public park aspects of the 200-acre main arboretum on the shores of Union Bay on Lake Washington, leaving the Center free to concentrate on its over 10,000 specimens.

The Mount Holyoke College campus itself, in South Hadley, Massachusetts, is an arboretum. It was formally designated as such starting with the efforts of Lydia Shattuck, Professor of Physics, in 1870. New England's infamous Hurricane of 1938 knocked out over 1,200 specimens from their collection, but the school came back determined to replant, and today it's as lush and beautiful as ever.

The Morris Arboretum is now celebrating its 125th anniversary. Beginning its days in 1887 as "Compton," the estate of Quaker industrialists John and Lydia Morris, who were driven by a desire to be "worthy stewards" of their fortune, creating a wonderland of sculpture and global plant specimens that they donated to Penn in 1932. Besides its extensive academic uses, it's the official arboretum of the Commonwealth of Pennsylvania and is on National Register of Historic Places.

Now this is one exceptional garden: "the only university botanical garden located in a tropical rainforest in the United States as well as the only easily accessible tropical rainforest on the island of O'ahu." It's visited by over 34,000 members of the public annually, as well as being an incredible resource for students of multiple disciplines, from A to Z: Anthropology, Biology, Botany, Culinary Arts, Engineering, Geography, Hawaiian Studies, Horticulture, and Zoology.

Not only has the campus of this four-year nonsectarian school in the history-soaked capital of colonial Maryland recently been designated a Level One Arboretum by the Morton Register of Arboreta, but just this month it has been awarded the Grand Award by the Professional Grounds Management Society. This means it is considered one of the best-maintained landscapes in the nation (past winners include Disneyland, the Smithsonian Gardens, and the National Zoo). This honor is sure to bring more attention and renown to an under-the-radar national treasure.