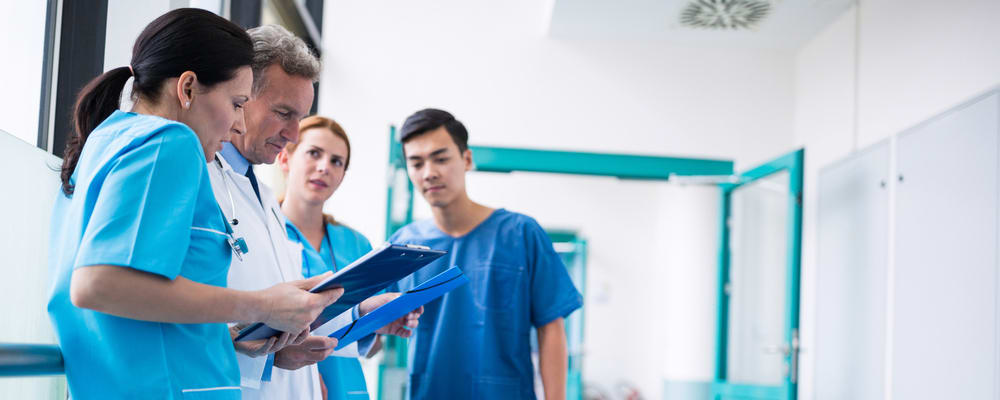 Download Badge
Nursing is among the fastest growing employment sectors in the country. The Bureau of Labor Statistics projects that the employment of registered nurses (RNs) will grow much faster than average over the next several years due to an aging population, expected retirements, and a need for more qualified professionals in the nursing profession.
A Bachelor of Science in Nursing (BSN) from a top online college or nursing school opens up many opportunities for employment in the nursing profession and has become increasingly necessary for advancement in the field. RNs looking to move into an administrative position, conduct research, consult, or teach are frequently required to have a BSN or a Master of Science in Nursing (MSN) from an accredited nursing degree program.
What Are The Top 25 Online BSN Programs?
Note that many of the online nurse practitioner programs in our ranking are degree completion programs that require some prior college credits. Also, tuition rates may not include all applicable fees.
| | | | |
| --- | --- | --- | --- |
| 1 | | Villanova offers one of the most recognized online RN to BSN programs - designed for registered nurses who are looking to expand their professional responsibilities, advancement opportunities, income potential and educational requirements to step into the professional side of nursing leadership.The program is designated a Center of Excellence in Nursing Education by the National League for Nursing (NLN). | Visit Site |
| 2 | | George Washington's degree is another highly-touted option for online RN to BSN programs. The degree requires 21 credits and the completion of a professional portfolio. Some of the courses can also count towards graduation credit if you are interested in pursuing a master's or doctorate in nursing. | Visit Site |
| 3 | | Recognizing the demand for BSN-accredited nurses, Nebraska Methodist College offers one of the best RN to BSN online programs in the country. The baccalaureate degree in nursing is accredited by the Commission on Collegiate Nursing Education (CCNE), and offers valuable minors such as Spanish for Healthcare Professionals and Healthcare Sign Language. | Visit Site |
| 4 | | Like many other online nursing programs, candidates interested in this degree must be a graduate of an accredited associate degree nursing program and a graduate of an accredited hospital based program - they must also be working in a healthcare setting for a minimum of eight hours per week. The accelerated degree program can be finished in less than two years, and allows flexibility in your schedule. Not yet an RN? There is also an associate of science in nursing degree to enable you to become a registered nurse. | Visit Site |
| 5 | | RN to BSN online programs are designed help nurses advance their careers while providing learning solutions that are flexible to a nurse's busy schedule. The Maryville University of Saint Louis RN to BSN program is no different. The training will help you secure your next career move whether it's as a nurse manager, a specialist or an educator. | Visit Site |
| 6 | | The University of St Francis RN to BSN online program offers advanced training for RNs that emphasizes critical thinking and decision-making. Coursework addresses current topics in nursing such as health policy and informatic and environment, in order to prepare BSNs for ongoing changes in the healthcare industry and emerging areas of focus. | Visit Site |
| 7 | | College of Saint Scholastica offers an RN to BSN online degree that can be completed in one year. It involves a total of 46 program credits, and is another one of many online RN to BSN programs highly regarded for flexibility and career advancement. | Visit Site |
| 8 | | The RN to BSN track at Cox College provides a baccalaureate degree in nursing for registered nurses over 128 credit hours. There is also an RN to MSN track, which allows nurses to work towards their master's degree while working on their bachelor's degree. | Visit Site |
| 9 | | This is a top choice among online nursing programs, due to Clarkson College and its RN to BSN program's reputation for academic excellence. The curriculum includes a series of nursing courses, general education courses, and specific support courses in related health sciences, although no formal clinic hours are required for this program. | Visit Site |
| 10 | | Regis University is a great option for online nursing programs, due to their excellent reputation in online education.Their RN to BSN program can be completed in as little as 13 months, and a total of up to 90 transfer credits can be accepted upon admission. | Visit Site |
| 11 | | The University of Central Florida offers two online nurse practitioner programs: a RN to BSN degree and an ASN to BSN degree. However, due to state regulations, UCF is not permitted to provide courses to students from some states; check for more details. | Visit Site |
| 12 | | The online RN to BSN degree from the University of Massachusetts-Amherst allows you to start your course work in spring or summer and complete your degree in as little as one year, even while working full time. As part of the degree, students must complete a capstone project that meets with university standards. | Visit Site |
| 13 | | Mount Carmel College of Nursing is one of few online RN to BSN programs designed from the student perspective. The format was built according to standards of quality developed through national research in online learning from students' perspectives. The school also has strong healthcare partnerships with 82 acute-care hospitals and 89 continuing care hospitals in 21 states from coast to coast. | Visit Site |
| 14 | | This RN to BSN program, offered by Sacred Heart - a top Catholic university with a long and respected track record in adult nursing education - is unique and innovative. One of several online nurse practitioner programs, Sacred Heart's approach is different, because it's part of a broader "human journey" curriculum aimed at personal and leadership development for the common good. Students learn to address the whole person in multiple different cultural contexts and to understand nursing within the framework of social justice. | Visit Site |
| 15 | | This RN to BSN online degree is designed for both diploma and associate degree registered nurses who want to earn their bachelor's degree. The 128-semester-hour program has a reputation for accepting more courses in transfer than most institutions | Visit Site |
| 16 | | Drexel University's online RN to BSN program is a 180-quarter-credit-hour degree completion program which allows up to 133 general elective credit hours to be transferred in. The program is entirely self-paced, allowing students to take as few as one course a semester. This is an extremely popular program from a respected private university with an award-winning online division. | Visit Site |
| 17 | | Quinnipiac University's online bachelor of science in nursing (RN to BSN) program allows registered nurses to stay competitive and evolve in the ever-changing world of health care. This intellectually stimulating program, taught by knowledgeable faculty members with real-world experience, prepares you with the skills and understanding you need to meet the demand for better educated nurses in the workforce. | Visit Site |
| 18 | | The RN to BSN program at Nova Southeastern University in Fort Lauderdale, Florida offers a convenient pathway to reach your potential - entirely online courses designed for busy, working nurses and small class sizes with experienced faculty help you complete the RN to BSN degree in as few as four semesters. | Visit Site |
| 19 | | UMass Lowell offers a part-time Bachelor of Science in Nursing - RN to BS. Courses are available online, on-campus and in a "blended" format - making it more convenient than ever for licensed RNs to earn a bachelor's degree part-time. The university's School of Nursing is fully accredited by the Commission on Collegiate Nursing Education (CCNE) and the American Association of Colleges of Nursing (AACN). It is also approved by the Massachusetts Board of Registration in Nursing (BORN). | Visit Site |
| 20 | | A baccalaureate RN to BSN degree is recognized by the American Nurses Association as the requirement for entry into professional nursing. East Carolina University's online program is built upon a liberal arts and a natural and behavioral sciences education, stressing the learning of concepts and principles, as well as the use of the nursing process in caring for individuals, families and groups. | Visit Site |
| 21 | | Like many other RN to BSN online degrees, Liberty University offers a 100% online program that requires 120 credit hours. Up to 90 hours may be transferred in, with a minimum of at least 30 hours completed through Liberty. | Visit Site |
| 22 | | This 120-credit RN to BSN degree is based on a strong liberal arts and science foundation. Courses are taught completely online in an asynchronous format and run in seven-week sessions rather than full semesters. | Visit Site |
| 23 | | Named for the fourth year as one of UNCW's "best value" public colleges and universities by The Princeton Review, The University of North Carolina Wilmington is an excellent choice for your online RN to BSN degree. The price is particularly attractive for North Carolina residents, allowing them to pay less than a quarter of the price of those located out of state. | Visit Site |
| 24 | | The USF online RN to BSH program is developed for today's nurse with leadership and management skills, a focus on patient and staff education and clinical excellence. Students interested in USF's nursing master's, Ph.D. or DNP programs can expect a seamless transition from one program to the other. | Visit Site |
| 25 | | Misericordia University offers an online RN to BSN program as part of their undergraduate offerings. The Catholic University located in northeast Pennsylvania has been providing quality education for more than 90 years. | Visit Site |
Sponsored
Advantages of Online Nursing Programs
Online nursing programs are among the most popular online degree programs, and RNs looking to earn a BSN have a number of accredited online RN to BSN degree programs to choose from. Earning a BSN from one of the top online nursing schools allows a student to maintain their employment and/or family responsibilities while earning their degree. Many of the best accredited online RN to BSN degree programs don't require any campus visits, and allow practicums and clinicals to be completed at the student's place of employment or at a nearby health facility.
How We rank Online Nursing Degree Programs
Online nursing programs vary widely in terms of quality, name recognition, and value. To assist those looking for a high-quality, accredited online RN to BSN degree program, we've put together this ranking of the best accredited online RN to BSN programs for 2019. Our rankings are based on publicly available data evaluated according to several different criteria, including reputation, accreditation, student satisfaction, ratio of students to instructors, and cost. You can read more about our rankings philosophy and find a list of other top college and degree rankings on our rankings page.
---
To determine the best online Bachelor of Nursing (RN to BSN) degrees, we looked at the most important factors prospective students, mainly common predictors of future success and a school's commitment to online programs. This boils down to admissions rate, student loan default rate, retention rate, graduation rate, and the percent of students enrolled in online classes. All data points are taken from information provided by colleges and universities to the National Center for Education Statistics.
Each factor is weighted evenly in order to give an objective view and determine the 10 best online Bachelor of Nursing (RN to BSN) programs. To calculate our rankings, we looked at a school's ranking when organized by a single factor, and then averaged each category's ranking to find an overall score: Admissions Rate (20%) + Default Rate (20%) + Retention Rate (20%) + Graduation Rate (20%) + Percent of Students Enrolled in Online Classes (20%) = Final score.