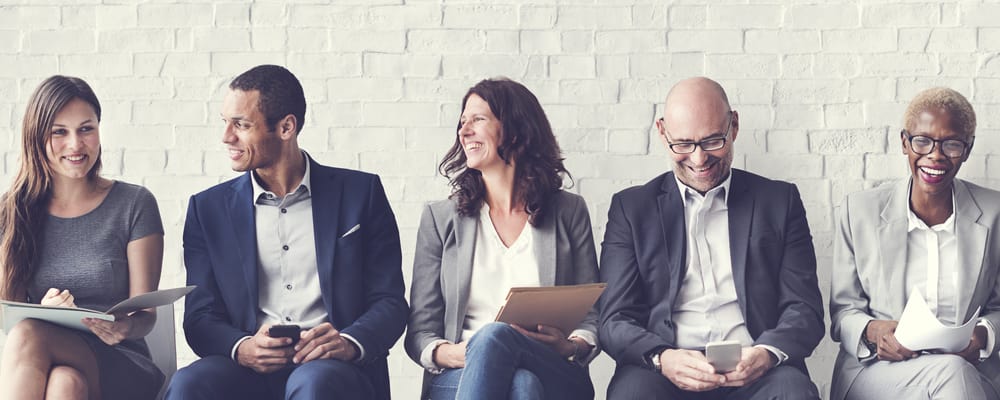 Download Badge
Competent middle management is the lubricant that keeps a good machine of industry flowing, helping to keep staff and production in mutual harmony. It's a growth industry, too. The Bureau of Labor Statistics reports different aspects of human resources adding jobs at average or faster than average rates, with compensation and benefits managers reaching the high end of the spectrum at a median salary of six figures. Acquiring a master's in human resources with the option of pursuing PHR or SPHR certification is an ideal way to move up in this vital line of work.
A good human resources master's program will teach students about ethics, diversity in the workplace, and the legal framework of employee relations, among other key concepts. These are vital skills, as businesses increasing engage in global economics. A master's degree in this area is crucial to increasing a candidate's eligibility for top management positions, and by extension, the most rewarding and high-level business careers. From corporations to nonprofit organizations, upper management positions in human resources typically require a master's degree.
WHAT ARE THE BEST ONLINE MASTER'S IN HUMAN RESOURCES?
| | | | |
| --- | --- | --- | --- |
| 1 | | For the disciplined student with a solid work ethic that wants to earn their degree as soon as possible, the University of St. Francis is an ideal choice. The university's online human resources master's degree program can be completed in as little as a year, and students are allowed to begin in the concentration area of their choice immediately upon starting the program. Admissions requirements include an undergraduate GPA of at least 2.75, two letters of recommendation, and competency in word processing and spreadsheets. | Visit Site |
| 2 | | The University of Scranton offers a traditional Jesuit liberal-arts-style education online. Human resources students are required to complete 13 courses exploring strategic planning, workplace diversity, recruitment and staffing, and organizational change. The university also offers a networking resource that allows students to communicate with graduates who are alumni of this particular human resources program. | Visit Site |
| 3 | | Busy adults looking for a well-organized online university experience that fits into their schedule may be well-suited to the University of Denver's online program. The university's master's in human resources uses the Canvas operating system, providing a simple and responsive online learning experience. Students will explore employment relations, management and development, and operations. Completing assignments and corresponding with professors is as easy as the touch of a button. The program requires 48 credit hours spread across twelve courses, and tuition is priced at roughly $31,000. | Visit Site |
| 4 | | One of the most unique online human resources master's programs is offered through Nova Southeastern University. Here, a master's degree in human resources can be earned in as little as 21 months. The program features courses on talent management and organization of employee total rewards, and provides distance students with real-time virtual classroom experiences, as well as access to online forums for discussions between instructors and peers. | Visit Site |
| 5 | | Not to be confused with the University of St. Francis, SFU offers a comprehensive human resources management master's online. For the student on a budget, SFU offers its own unique cost-saving measures. For example, referring at least two fellow employees to the program can provide a 15 percent discount on tuition, while professionals in Human Resources (PHRs) can choose to waive the cost of one entire course of qualifying curriculum. Students are required to complete ten courses within five years of starting the program, which emphasizes labor and employee law within its core curriculum. | Visit Site |
| 6 | | Webster University offers a first-rate online master's of human resources program. Though among the lengthier courses of study, with a 36-credit-hour MA and 51-credit-hour MBA program, the results speak for themselves. In addition to encompassing the full range of knowledge and skills needed for employee management, the program also consistently exceeds the national average for certification preparation in the field. Students looking to form a comprehensive understanding of the corporate benefits of human resources would be well-suited to this degree. | Visit Site |
| 7 | | New York University offers students the opportunity to earn a human resources management master's online in just two years. The program features an optional focus in human resources within a company with global reach, a unique major offered by few universities in the U.S. Students must complete a thesis or comprehensive business simulation to meet final graduation requirements. | Visit Site |
| 8 | | For students who are North Carolina residents, Western Carolina University's online master's of human resources program can offer exceptional savings on tuition. In-state tuition runs just over $10,000 for this program, with out-of-state tuition considerably higher-priced. Like NYU, Western Carolina University offers courses in global human resources teaching, as well as a focus on community service initiatives. Applicants must have a graduate GPA of 3.25 or higher to be admitted into the program. | Visit Site |
| 9 | | All students getting an online master's in human resources at St. Mary's are provided with an iPad equipped with education resources like Facetime to encourage communication between students and professors. Round-the-clock tech support is also available as part of the 26-month program. One of the primary goals of St. Mary's holistic approach to education is guiding students toward human resource expertise in a world where mobile technology is the norm. | Visit Site |
| 10 | | A comprehensive and thorough program, Central Michigan University's online master's in human resources focuses on managerial accounting, data analysis, and managing employees in a global economy. Applicants must have at least a 2.7 GPA and a Graduate Management Admission Test (GMAT) score of 450 (may be waived under certain conditions) for admission. The university also hosts a long-running and highly respected regular webinar series. | Visit Site |
| 11 | | LeTourneau offers a master's in human resources online program for students looking to incorporate Biblical principles into their brand of management. Preparing Christ-like leaders for the business world is among the program's primary goals. Letourneau's online programs offer daily tech support in 16-hour-windows and online writing tutorials for distance learners. | Visit Site |
| 12 | | Concordia's program is one of the most affordable in the country, with tuition priced at roughly $26,000. Course work explores alternative dispute strategies, risk management strategies, and in-depth labor law practices. The online program is asynchronous, which allows students to complete assignments at their leisure and start the degree anytime. | Visit Site |
| 13 | | Like some others on our list, the IWU program focuses on Biblical principles in business leadership, and grants a Master of Science rather than an MBA. The program encompasses 36 credit hours, at $361 per hour, for online students, and offers courses on staffing and training, essential business communications, and finance for managers, among other core classes. A degree from another institution also accredited by the Association for Biblical Higher Education is accepted as a prerequisite. | Visit Site |
| 14 | | In addition to offering many educational benefits as a program, RMU offers an excellent inspirational video series on online college for students interested in exploring the Online Experience. The series offers a unique perspective on the idea of continued education in the online space. RMU is consistently ranked among the nation's top 50 master's in human resources online programs. The degree offers comprehensive courses on compensation management, recruitment and retention, and organizational behavior theory, and follows a spring-fall-spring-summer cycle. | Visit Site |
| 15 | | Concordia University-St. Paul is a leader in graduate employment: over 90% of Concordia graduates find work after graduation. The university's online master's human resource program is 36 credit hours, with each course taking seven weeks to complete. The program includes a focus on legal and regulatory environments that supplements traditional human resource coursework. Concordia's IT help desk staff can not only help students to complete the online program but also help them make sure their computers meet the required technological specs before beginning their first course online. | Visit Site |
| 16 | | DBU's online program includes a unique feature when it comes to scheduling online classes. The program is asynchronous, which means students are not wedded to a semester schedule and can study in their own time. However, there are some set boundaries on completion times so that an overall semester structure can be maintained. This makes the online learning experience incredibly interactive, as well as good fit for students who require a bit more discipline within the online education experience. The human resources program features courses on ethics, life transitions, and leadership, and encompasses 36 credit hours. | Visit Site |
| 17 | | If Christian values are a core tenet of your managerial style, you may be well-suited to Belhaven University's human resources program. The 42-credit-hour program takes place over the course of consecutive eight-week terms, and includes courses on financial analysis, marketing, and strategic planning. Applicants must have a grade of C or higher in college algebra, or a similar high-math course, to be admitted into the program. | Visit Site |
| 18 | | For dedicated self-starters looking for an accelerated master's in human resources online, USM could be an ideal choice. Students may be eligible to complete the 36-credit-hour program in as little as one calendar year, by taking two classes per term. Conflict management and ethics are a key part of the human resources focus in this online program. | Visit Site |
| 19 | | Among the fastest routes to graduation is the online human resources program at Penn State, which requires only 33 credit hours to complete. This university has been providing human resources education since 1942, and now offers programs through its world-renowned school of business entirely online. Students may also be interested in exploring the school's comprehensive alumni ambassador program for additional mentoring and networking opportunities. | Visit Site |
| 20 | | By contrast to some of the accelerated programs on our list, North Park offers a more relaxed program for the student looking to take their time to acquire their master's degree. A typical program takes just over two years to complete, with courses in diversity and conflict, global macroeconomics, and ethical leadership. Students are provided a lifelong learning initiative that lets graduates return to take courses at half of the current tuition rate, making NPU an ideal choice for students interested in continuing education for the duration of their career. | Visit Site |
Sponsored
What to Look for in a Master's Program in Human Resources
The opportunities are vast for graduates of a master's program in human resources, whether overseeing departmental operations or serving as a consultant, managing the divide between workers and production. At its core, human resources is a people-oriented business, and though it may seem unusual to seek such personal interaction through online coursework, much can be gained from earning a degree online in this discipline. Many online human resources programs offer the same mentorship, student-to-student collaboration, alumni, and industry networking opportunities to both distance and traditional students. The key characteristic to look for in an online human resources master's is a program that encourages students to make connections that can translate into real-world relationships.
Additionally, an online degree offers students the flexibility to continue with career and family obligations without requiring them to commute to a campus. For most students, life doesn't get put on hold just because they go back to school. The flexibility and savings made possible by online human resources programs are just some of the benefits that can help to make learning more accessible within the context of a busy life.
---
To determine the best online Master's in Human Resources programs, we looked at the most important factors prospective students, mainly common predictors of future success and a school's commitment to online programs. This boils down to admissions rate, student loan default rate, retention rate, graduation rate, and the percent of students enrolled in online classes. All data points are taken from information provided by colleges and universities to the National Center for Education Statistics.
Each factor is weighted evenly in order to give an objective view and determine the 20 best online Master's in Human Resources programs. To calculate our rankings, we looked at a school's ranking when organized by a single factor, and then averaged each category's ranking to find an overall score: Admissions Rate (20%) + Default Rate (20%) + Retention Rate (20%) + Graduation Rate (20%) + Percent of Students Enrolled in Online Classes (20%) = Final score.