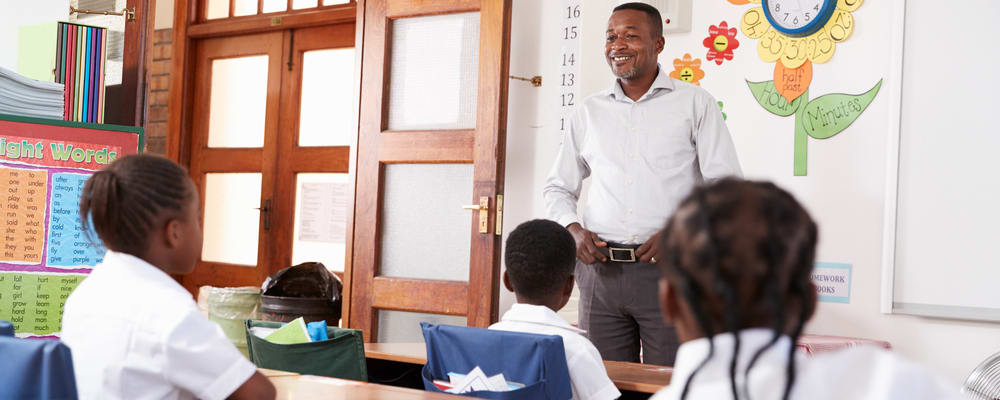 Download Badge
Anyone interested in childhood development and/or in helping disadvantaged children achieve their potential will find value in obtaining a master's in early childhood education online. An online master's degree in early childhood education opens doors to a number of broad or specialized career options in education, as well as to other fields like social services, medicine, communications, government, and even business. At least some level of higher education is required for entry into any of these potential positions, but in order to reach an advanced role, it is highly likely that you will need to earn your online early childhood education master's.
To enter a clinical or therapeutic position, for example, you will need to have obtained advanced certification, while a master's or a doctorate will be required for any administrative roles. Graduates in this field often go on to work in pre-schools, public/private schools, programs for special needs children and adults, community centers, rehabilitation facilities, religious organizations, mental health agencies, department/retail stores, and many others.
What Are The Best Online Master's of Early Childhood Education Programs?
Salary Outlook For Master's of Early Childhood Education Graduates
| Occupation | Minimum Required Degree | Expected Salary |
| --- | --- | --- |
| Preschool teacher | Bachelor's | $2,876 |
| Preschool Director | Master's | $43,094 |
| Elementary School Teacher | Bachelor's | $42,802 |
| Executive Director | Master's | $64,020 |
| Teacher's Assistant | Associate's | $22,728 |
Source: PayScale
According to Payscale and the BLS, students looking to enter the field of early childhood education can expect to earn higher salaries as they further their education. Studies have shown that the more schooling teachers undergo, the better they are able to meet the needs of their students. As a result, if you earn your master's, it is highly likely that you will earn more money in the same position than a candidate holding a bachelor's degree.
What To Expect in a Early Childhood Education Career
A day in the life of a professional in early childhood education may vary greatly based on the line of work you opt to pursue. For example, should you choose – as the major's title may suggest – to enter the education workforce as a teacher, chances are your day-to-day life would include overseeing children and ensuring that they learn subject matter as well as maintaining responsibility for the students' welfare. After earning your online master's in early childhood education, you would likely be responsible for developing curriculum, interacting with students and parents, and demonstrating your ability to work with individuals of all backgrounds. On the other end of the spectrum, if you chose to utilize your degree in the business realm, your responsibilities would most likely be influenced by your expertise in children and development. For example, if you were to work in product development, chances are that you would be called upon for your knowledge of what products can benefit, or be dangerous to, children.
To be a teacher, particularly of young children, there are a myriad of skills and traits you will need; see the following list for some examples:
Clear and concise communication
Confidence – students will need to trust in your ability to lead them
Organization
Ability to handle conflict – between yourself and parents/other faculty as well as between students
Be able to work well with others
Empathy
Imagination
Adaptability
Patience
Open-mindedness
---
To determine the best online master's of early childhood education programs, we looked at the most important factors prospective students, mainly common predictors of future success and a school's commitment to online programs. This boils down to admissions rate, student loan default rate, retention rate, graduation rate, and the percent of students enrolled in online classes. All data points are taken from information provided by colleges and universities to the National Center for Education Statistics.
Each factor is weighted evenly in order to give an objective view and determine the 20 best online master's of early childhood education programs. To calculate our rankings, we looked at a school's ranking when organized by a single factor, and then averaged each category's ranking to find an overall score: Admissions Rate (20%) + Default Rate (20%) + Retention Rate (20%) + Graduation Rate (20%) + Percent of Students Enrolled in Online Classes (20%) = Final score.