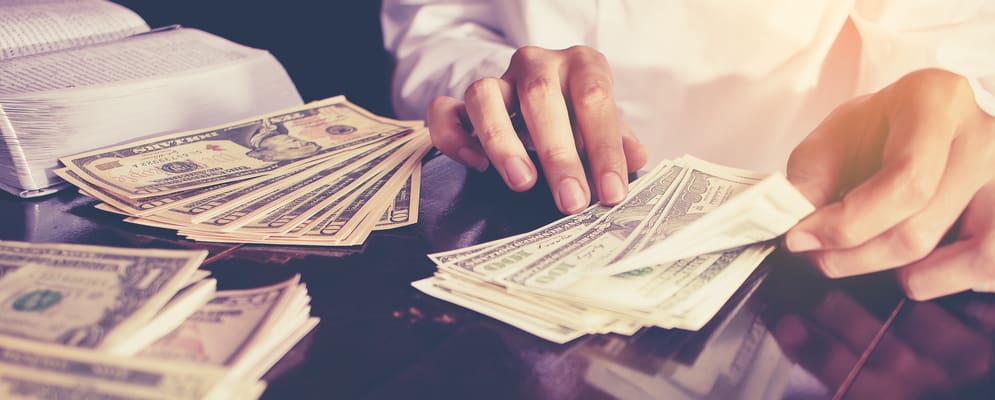 Download Badge
A career in finance can offer opportunities in almost any industry. While the term may call to mind a career in banking or at an investment firm, most organizations of any size — and many individuals–require the services of a finance professional for accounting, investments, budget analysis, and much more. Whether you pursue a career as a personal financial advisor, a corporate CFO, a market research analyst, or a fundraiser, earning an online master's in finance can qualify you for a variety of professional opportunities.
A good online master's in finance program offers an educational experience with the same level of quality that a student would receive while attending in person. Time and geography are major considerations for most people who are working full-time and wish to pursue a graduate degree, and today's online finance master's degree programs can offer excellent opportunities for distance students to receive a quality education. These online master's in finance programs are designed around the assumption that the student is working full-time and needs some flexibility to balance their education with their work schedule. Some can be completed entirely online, while others require limited visits to the campus in person. The student has access to faculty as needed, and the program encourages communication and collaboration among peers, as well. The following online master's in finance programs offer these attributes and more to help you achieve your career goals.
What Are The Best Online Master's in Finance Programs?
Career Opportunities with an Online Master's of Finance Degree
While most jobs in finance do not require a graduate degree, many employers prefer to hire individuals who have earned a master's in finance online or through traditional means. A graduate degree indicates to a potential employer that the candidate has advanced professional knowledge and experience, as well as a commitment to their career. A master's in finance is more specialized than a general MBA, so it is particularly appealing to employers for certain roles, most of which have a median starting salary of $70,000 per year or more. Potential careers for a person with a master's in finance include:
Commercial or Investment Banker
Chief Financial Officer (CFO) or Finance Director
Financial Planner
Personal Financial Advisor
Financial Examiner
Insurance Specialist
Compensation, Benefits, and Job Analysis Specialist
Financial Analyst
Budget Analyst
Cost Estimator
Market Research Analyst
Broker (stocks, bonds, commodities)
Fundraiser
---
To determine the best online Master's in Finance programs, we looked at the most important factors prospective students, mainly common predictors of future success and a school's commitment to online programs. This boils down to admissions rate, student loan default rate, retention rate, graduation rate, and the percent of students enrolled in online classes. All data points are taken from information provided by colleges and universities to the National Center for Education Statistics.
Each factor is weighted evenly in order to give an objective view and determine the 20 best online Master's in Finance programs. To calculate our rankings, we looked at a school's ranking when organized by a single factor, and then averaged each category's ranking to find an overall score: Admissions Rate (20%) + Default Rate (20%) + Retention Rate (20%) + Graduation Rate (20%) + Percent of Students Enrolled in Online Classes (20%) = Final score.